The St. Peter Food Co-op is a co-operative business owned entirely by members of the community—over 2,600 individuals. The best thing about the Co-op? Anyone can shop here!
We are a 10,000-square-foot full-service grocery store offering all major departments, including wellness and personal care. At the Co-op, we are passionate about food—what it tastes like and where it comes from. Visit us to stock up on everyday staples or pick up something extra-special. Looking for a favorite item that we don't carry? We're happy to place a special order for you with a quick turnaround time.
Did we mention that we're more than just groceries? Our Deli is the perfect place to meet friends for lunch or a chat over coffee. Each day of the week we serve a rotating hot bar menu, as well as delicious, freshly-made sandwiches, salads, baked goods, coffee, and tea. On Sundays, we serve brunch starting at 10 AM. Grab something to go if you're on a tight schedule or settle into our cafe-style seating area for a well-deserved break. Weather permitting, visitors can take advantage of our outdoor seating area, which features a Little Free Library and raised-bed community garden.
The St. Peter Food Co-op exists so that we have a healthy, sustainable, and just community— locally and beyond. We participate in local partnerships (including the Children's Weekend Food Program and the St. Peter Area Food Shelf); offer on-site and in-school educational programs; and support local producers whenever possible in order to strengthen our community and endangered family farms. The Co-op is a member of Greater Mankato Growth, the St. Peter Chamber of Commerce, and National Co+op Grocers.
Values & Vision
An Ends Statement provides a vision of who we are and what is most important to us. As a member-owned co-operative business, these Ends will be accomplished while advancing the co-operative principles & values and maintaining the St. Peter Food Co-op's long-term financial viability:
Shoppers have goods and services that nourish people and the planet.

Everyone has opportunities to make connections and build relationships in a fun, inclusive gathering place.

Members have facilities and operations that promote environmental stewardship.

Employees have a just workplace where every voice is valued and respected.

Our community has access to resources and knowledge about how each person can contribute to personal, community, and environmental health.
A co-operative (Co-op) is an independent group of people united voluntarily to meet common economic, social, and cultural needs and aspirations through a community-owned and democratically governed business.
All Co-ops are guided by seven basic principles, created by the International Cooperative Alliance:
1. Open and voluntary membership (open to all persons, without gender, social, racial, political, or religious discrimination)
2. Democratic member control (one member = one vote)
3. Member economic participation (members democratically control the capital of the co-operative)
4. Autonomy and independence (members maintain their co-operative autonomy)
5. Education, training and information (co-ops inform their members, elected representatives, staff, and the public)
6. Cooperation among co-operatives (co-ops collaborate—locally, nationally, regionally & internationally)
7. Concern for the community (co-ops work for the sustainable development of their communities)
The original Co-op storefront, circa 1979.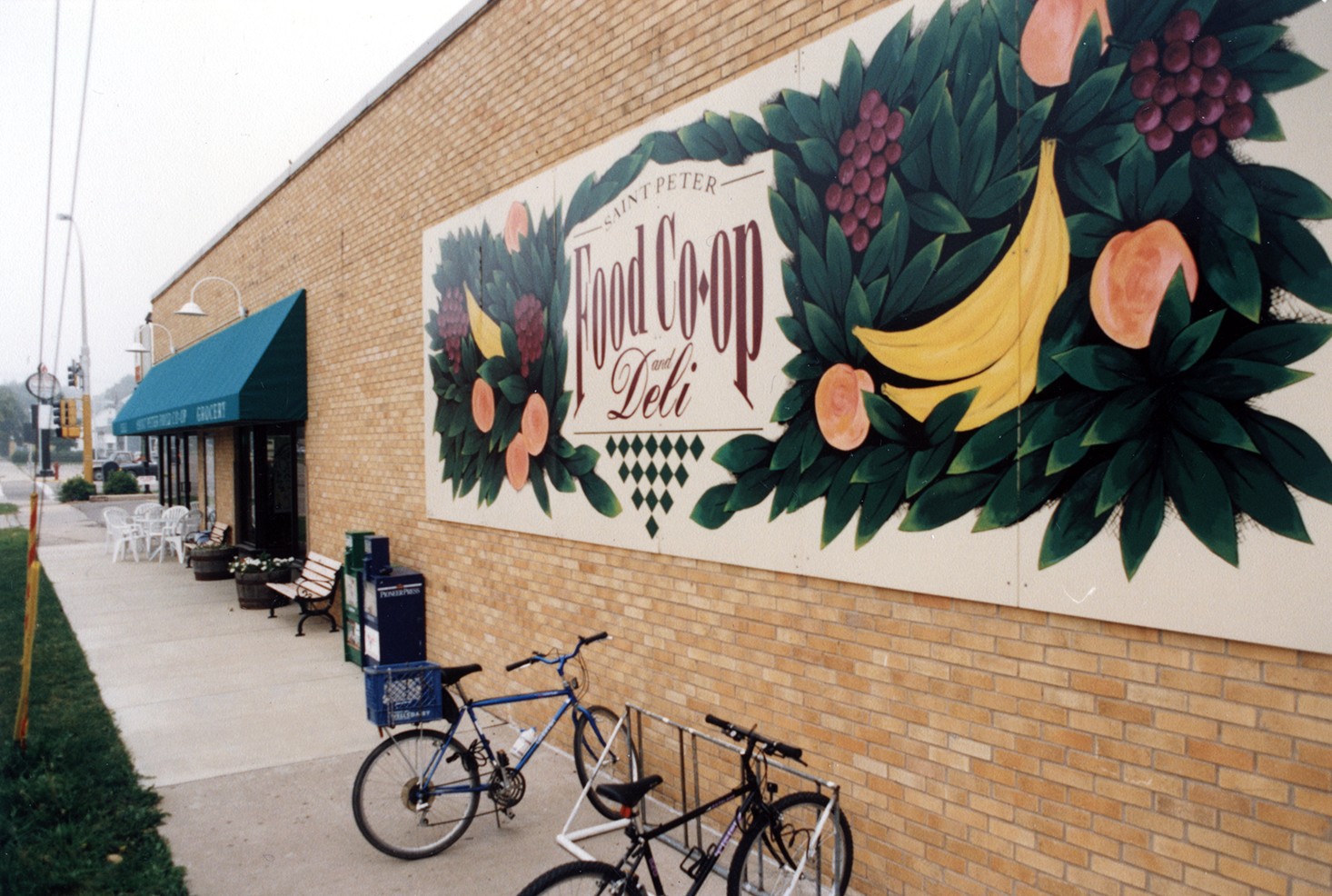 The Co-op's second location, circa 1994.
The current Co-op location at 228 W Mulberry St.
The St. Peter Food Co-op opened its doors in July of 1979 with 60 members. Early inventory consisted mostly of bulk items, including beans, grains, flours, dried fruits and nuts, and occasional local produce. The store functioned with an all-volunteer crew who took care of ordering, receiving, stocking, bagging, cleaning, cashiering, and everything else, with the goal of making $100 a day to break even.
Over the years the Co-op thrived, transitioning from a worker co-op (where work is required of members) to a consumer co-op structure. In 1990, members approved a new set of bylaws and Articles of Incorporation, raising the member investment requirement and providing the Co-op with much needed capital. The store opened the doors to its second location (on the corner of Broadway and Highway 169) on June 2, 1994. Membership and sales continued to build, but in March of 1998 a tornado destroyed much of St. Peter. With an outpouring of support from our community and Co-ops around the country, the St. Peter Co-op was able to reopen after three weeks and continued to grow.
In 2005, the Board of Directors was pondering the future. A market study was commissioned in order to discover sales potential and relocation opportunities. The study recommended that the Co-op should remain downtown and expand to 10,000 square feet. To build equity for the relocation, the Board once again recommended a new set of bylaws and Articles of Incorporation—again raising the member investment requirement. After a successful investment drive in 2009 (with the goal of raising $750,000 from members and local investors), everything clicked into place. In April of 2010, a purchase agreement was signed for the former Nielsen Chevrolet site—located downtown with 10,000 square feet and abundant parking.
By April of 2011, the Co-op had moved into its third (and current) location. The expansion and new building was a celebration of community support, creativity, and talent, with community members donating trees, flowers, and landscaping help. The St. Peter Food Co-op is now an excellent showcase for what can be accomplished within a small community, using resources from federal, state, city and grassroots organizations.