The only thing we like more than talking about food is talking about food with our favorite local producers. Cedar Crate Farm is run by Dan and Lara Zimmerli and located near Kasota, Minnesota. Read on to learn more about the farm and their sustainable, fresh, delicious, local produce!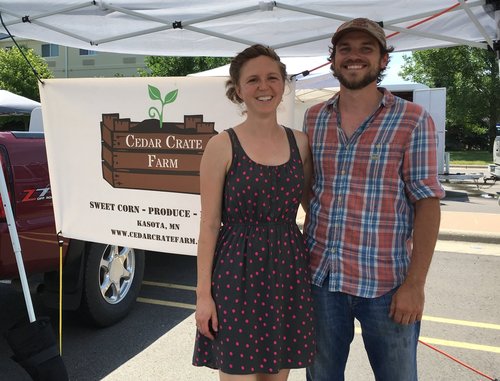 Tell us about Cedar Crate Farm.
Our farm was started in 2015 out of a desire to share high quality, fresh, delicious produce with the community. We absolutely love the fact that we produce something so tangible and integral to people's lives. We initially had 8 CSA [Community Supported Agriculture] members and sold at the Mankato Farmers Market.
We started small so we could develop systems that would be scalable and to "test the waters" before committing to too much. We've grown since then to around 50 CSA members, and continue to sell at the Mankato Farmers Market and we're super excited to have our produce at the St. Peter Food Co-op this season!
Our farm is situated in two physical locations:
Our property near Kasota, where we have a large garden/test plot, our chickens, our cleaning and storage facilities as well as our home.
Our second location is near Waldorf, MN (about 20 miles southeast of Mankato) where we have 2 acres of produce nestled along a small stream in the middle of corn and soybean country. This location, southeast of Mankato, is where the majority of our produce is grown.
We're working on purchasing the land southeast of Mankato and hope to construct a house in the next couple of years. We really like the fact that we've started farming these two acres and converted it from corn and soybeans (which people don't directly eat) to a farm that grows food that people can eat without layers of processing involved.
We love the idea that instead of people moving out of rural areas we're moving back, and even building a new house. Sort of reversing the status quo for rural America and maybe even part of a revitalization of rural America.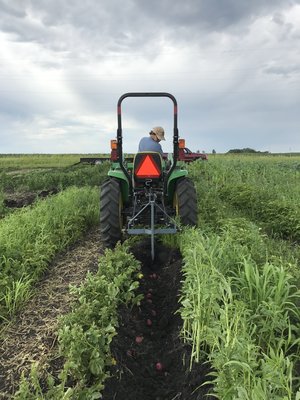 What is special or unique about the produce you grow?
Our produce and farming practices are unique in a variety of ways. We're not certified organic but we use organic and/or sustainable practices in our production. We don't spray synthetic pesticides on our produce—though we do use some organic approved sprays when the need arises. We make use of cover crops for soil building and weed suppression and we use animal manures (always accounting for food safety with application times) for our main fertility inputs.
We try to minimize tillage of our soils but we do use some tillage equipment, including a rotary tiller and chisel plow. Our hope is that using these practices will help build the organic matter content of our soils which is an indicator of healthy soils and also helps sequester carbon. We're encouraged that from last year to this year our soil organic matter percentage has increased according to our annual soil test. We hope to continue that trend for years to come.
Our produce varieties are selected for flavor. We're constantly experimenting with new varieties to see if we can find tastier carrots or sweeter watermelon. None of our varieties are GMO varieties (usually GMO varieties are bred for mass production and shelf life, not for flavor). We do use some heirloom varieties in our production but it's not necessarily something we strive for. We just want it to taste good!
Why are locally owned farms important to a community?
This question could just about be it's own book! There are a ton of reasons locally owned farms are important to communities. There's the famous saying, "You are what you eat" and I think that's the basis for why local foods are important to communities. It's easy to overlook how fundamentally important food is with how busy everyone's lives are and how food seems so accessible for most (but definitely not all) but we literally are composed of what we eat. Shouldn't those foods be of the highest quality possible? Shouldn't you be able to see where and how your food is produced? Shouldn't you be able to meet the people who produce it?
From a sustainability point of view, local farms are an integral part of communities and combating climate change. It's quoted that the average piece of produce in a typical grocery store travels something like 1500 miles to reach the store shelves. Local foods usually travel less than 50 miles. That's a ton of carbon saved in transportation costs alone. Additionally, most local farms are highly diversified farms, meaning they grow or raise a wide variety of crops and livestock. That diversity helps with resiliency and helps us to withstand the effects of climate change, sometimes better than our conventional counterparts.
Local farms also help with community resiliency. When you buy a local product, most of those dollars are spent back into the local community. We're a great example of that. We don't produce any dairy products yet my wife loves ice cream and I love a cold glass of milk. When you buy a head of lettuce from us, a portion of that money goes back into the community when we purchase dairy products that we don't produce ourselves. We use a local accountant and a local credit union and try to buy local as much as we're able. That helps create and sustain jobs and businesses and makes the community stronger. We also provide jobs for the community—this year we hired two seasonal helpers.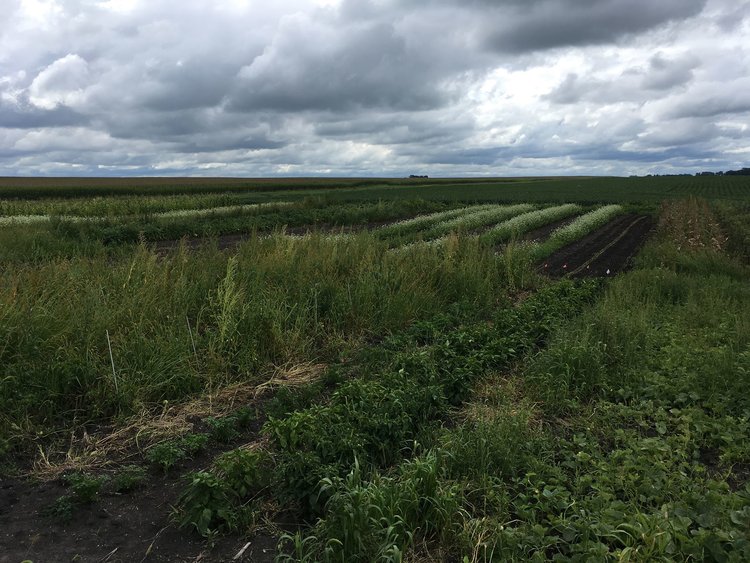 What food storage tip do most people get wrong & what's a better method for storing that item?
Probably herbs like cilantro or basil—especially basil. Basil is pretty sensitive to cold and most stick it in the fridge right away and wonder why it turns black in a day or less. The best way to store basil is in a jar of water in a cool, out of the sun area of your kitchen (kind of like flowers). It can last at least a week stored like this and probably a lot longer. Similarly, cilantro should be stored in a jar or glass of water but placed in the fridge with a bag over the top of it. We've had cilantro last over two weeks after harvest with this method.
Don't miss the Cedar Crate Farm produce storage guide.
What item from your farm are you most looking forward to offering this season?
We're really excited about our lettuce this year. We're trying some new varieties and new strategies that we hope will yield, sweet, crisp lettuce all season long (even in July and August). This is one of the experiments we're running on the farm this season so we'll be closely monitoring quality to ensure that our lettuce is sweet and crisp even in the heat of the summer. (Usually lettuce in the summer in MN is bitter or bolts before it can be harvested).
Find Cedar Crate Farm on Instagram, Facebook, at the Mankato Farmers Market, and the St. Peter Food Co-op!
This interview has been edited. All photos courtesy of Cedar Crate Farm.