Sustainable, local food production and processing enhance the economic, environmental, and social health of our region. The St. Peter Food Co-op has embraced local foods since our inception back in 1979—supporting local growers and producers while offering a variety of choices to our shoppers.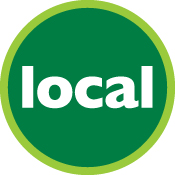 A round or oval local signs in the store (like the one seen above) indicates an item that comes from Minnesota or four surrounding states—Wisconsin, Iowa, North Dakota, or South Dakota.
The Co-op also carries a variety of hyper-local foods—foods that were raised, grown, or made within a 100 mile radius. Today we're highlighting two of our favorite local producers: King of the North Grape Juice and Montgomery Orchards.
King of the North Grape Juice
King of the North Grape Juice was founded by Jon and Susan Roisen in Lac Qui Parle, Minnesota. After the emergence of corporate production practices, the family switched from raising hogs to keeping a vineyard ("Much cleaner practice, but just as much work," says Susan). They began with some experimental varieties, including cold hardy grapes developed by the University of Minnesota.
Eventually, Jon and Susan planted 38 plants-worth of King of the North grapes, processing them in Milan, Minnesota, about ten miles from their vineyard. King of the North Grape Juice had been born. Sales grew, and the Roisen's expanded their King of the North vineyards to a full acre. After partnering with the Agricultural Utilization Research Institute (AURI) on a nutritional labeling project, the juice was ready to be sold commercially.
"You can be creative in how you serve it," says Susan. "…straight, mixed with water or carbonation, in an adult beverage, jelly, sorbet, warm or mulled—just use your imagination." Customers can expect 100% natural, potassium-filled grape juice, with no water, preservatives, or added sugars.
Each fall the Roisen's host a day of picking, crushing, and pressing, along with fresh juice tastings. This year's event is scheduled for October (watch the King of the North Grape Juice Facebook page for more info). "We are stewards of the land so our job is to care for it so that other generations will benefit from our caretaking," says Susan.
Montgomery Orchard
When Scott Wardell and his wife Barb read the book Last Child in the Woods, they observed that the children in their neighborhood were, indeed, playing outdoors. That observation helped them form the mission of Montgomery Orchard: to provide great outdoor experiences for families. As the Montgomery, Minnesota orchard has grown since the late nineties, this mission statement has shaped all of the Wardell's decisions.
Since purchasing the farm in 1997, they planted their first apple tree in 1998. After that, the Wardell's planted about 200 trees per year until they reached 2,000 trees. That's a lot of apples! The rest of Scott and Barb's farmland is dedicated to the Conservation Reserve Program (CRP) including the growth of various hardwood and evergreen trees as well as prairie restoration.
Montgomery Orchard is more than just local—it has become a community staple. "We have over 100 trees in the Orchard that have been adopted by kids in the community," says Scott. "When they pass by the Orchard the kids say Mom can we stop and visit my tree?"
In addition to apples, a corn maze, nature walks, hayrides, and more, Montgomery Orchard is launching a few new hard ciders and wines this fall. "We are particularly excited about our Graff—a cider that starts out as an English ale," says Scott. The Orchard now also serves sweet cider to children in the Cider Haus tasting room. Check the Montgomery Orchard website for more details and upcoming events.
St. Peter Food Co-op shoppers can find King of the North Grape Juice for sale in the beverage aisle. Apples from Montgomery Orchard will be available throughout the fall, including SweeTango, Honeycrisp, Zestar!, and Connel Red. Call for availability.